Claiming some of the lowest temperatures in the nation this winter, specifically in February with temperatures in the -40s, we are more than happy to welcome spring. Before all the warm weather comes, make sure that your home is ready by trying these cleaning tips:
1. Do More Than Just Dusting!
While dusting is an easy and quick fix to dust build up, you want to make sure to clean your blinds and windows, at least once a year. One of the best cleaning solutions is a vinegar and dishwashing liquid mixture. Make the solution by combining vinegar solution (1 part white vinegar per 8 parts water) with a few drops of dishwashing liquid. Then, spray it right on your blinds and windows and wipe off with a newspaper to avoid streaks and lines.
2. Get Out the Gardening Tools!
Nothing says spring like a variety of flowers adding pops of color in your landscaping. Mowing your lawn, weeding, and pruning the bushes are essential to good lawn care and will pay off later in the season, as maintaining your landscaping is much easier than the initial clean-up.
3. Wax Your Non-Wood Floors.
Both vinyl and linoleum floors can lose their shine, especially after our winter weather. To bring these floors back to life, try cleaning them with wax and polish that is specifically designed to make these surfaces sparkle. For stone or tile floors, a paste or liquid wax usually does the trick.
4. Get Rid of the Clutter.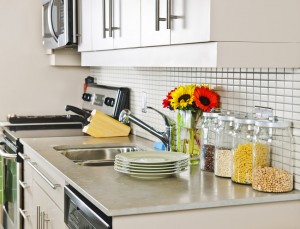 It's the time of the year when you can throw out the old and bring in the new! Throw away all of that mail and coupon ads that have just been accumulating all winter (make sure to actually go through the mail first and not just throw it away, incase there is something important in there).
5. Wash Outdoor Furniture. Whether you leave your outdoor furniture outdoors during the winter or keep it in storage, clean it now. Use the same cleaning solution used on your blinds and windows: 8 parts water/1 part vinegar + a few drops of dishwashing liquid. This solution should work on aluminum, plastic, wood, and wicker furniture. If you are concerned that your furniture may get ruined with the vinegar, just use warm soapy water.
6. Steam Clean the Carpets.
Winter weather, especially in our location, usually results in salt and dirt in the carpet and sometimes an odor from the wetness. Take the time this spring to steam clean all of your carpets! If you do not own a steam cleaner, you can usually rent for cheap at Home Depot, Lowes, or any other home improvement store. Also, you could consider hiring cleaning professionals to steam clean your carpets.
7. Time to Clean the Kitchen. While you most likely end up wiping down your kitchen daily or at least weekly, depending on how much you cook, now is the time to deep clean your kitchen. Use a microfiber cloth, hot water, and an all-purpose cleaner to tackle stubborn grease. Clean your sink drain by pouring a quarter cup of baking soda down the drain with an equal amount of vinegar– leave it overnight and flush it with boiling water in the morning. Lastly, you can either use the oven-clean feature on your oven for easy cleaning or you can use a mixture of water and baking soda; it should be paste-like. Then, coat your oven with this paste, leave it for 10-12 hours, and wipe clean.
Cleaning to Put Your Grand Forks and the Red River Valley Area Home on the Market?
Let our team of trusted RE/MAX Grand real estate professionals help you sell your property quickly and for top dollar. Contact us today! We can offer you more spring cleaning recommendations, staging ideas, and answers to your pricing questions.